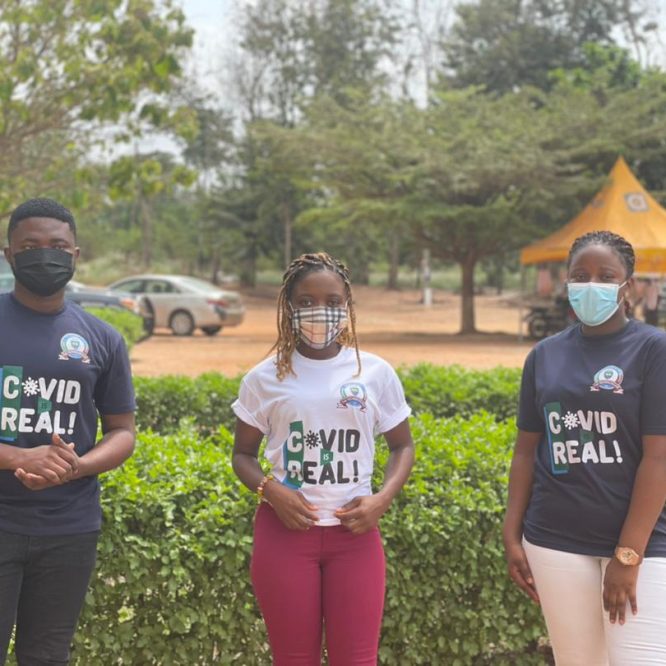 A Coronavirus Awareness Team has been inaugurated by the Students' Representative Council of the University of Energy and Natural Resources today 5th March, 2020.
The event took place at the forecourt of the GETFund Hostel at the Sunyani campus of the University.
Present were the Vice Chancellor – Prof. Elvis Asare-Bediako, the Registrar – Mr. Solomon Panford, Esq, the Dean of Students – Dr. Dominic Otoo, Dr. Solomon Fofie – University Heath Officer, Madam Abena Ahenkora – Head, Hostel Services, Executives of the student body led by Mr. Wiafe Richard, Ambassadors of the CoVID-19 awareness project and other students.
The SRC President in his speech indicated that the initial cases of CoVID-19 that were recorded on campus prompted the need begin the awareness at the student level.
"Two weeks ago, some cases were recorded on campus and the SRC in high regard for the welfare and health of students deem it necessary to launch the CoVID-19 awareness campaign and the CoVID-19 response team.
The Vice Chancellor on the other hand expressed gratitude to the council for bringing up this idea which complements efforts of University Management to combat the spread on campus.
In all, more than forty Ambassadors were sworn in and duly inducted.
To the full admiration of all gathered, the UENR Robotics Society also displayed an invention that seeks to aid in effective handwashing without touching through the activity of sensors.